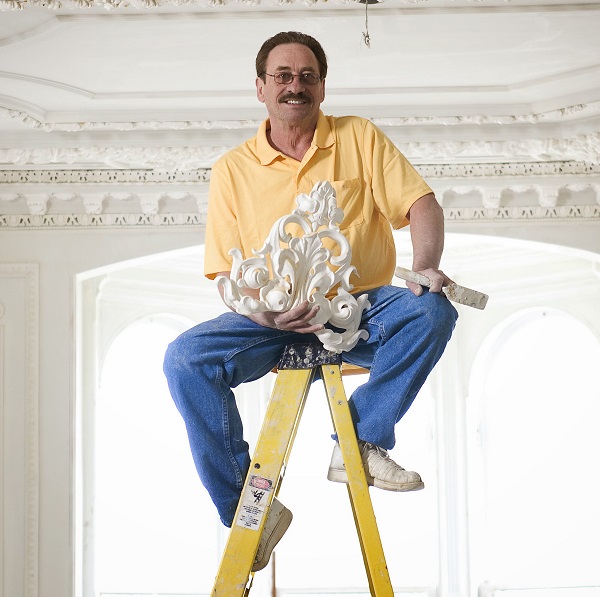 The Plaster Artisan Behind Joshua & Co., Ken Wildes:
His period design plaster work styles have ranged from Adam Design, Tudor Design, Federal Period, Victorian design, French Design, Baroque, Art Deco, and Georgian Design, to name a few.
Ken has mastered plaster artistry and remains devoted to creating museum quality plaster work, whether it be flat plaster, decorative ornamental plaster, plaster cornice molding, plaster ceiling medallions, ceiling designs, wall panels, or wall mouldings. 110% of his time and effort is applied - producing only the finest work that exceeds every expectation on the commissions he has executed for:
The Creative Process:
His Cornice molding are "Run in Place", and not applied sections. Such work is custom, detailed to fit each client's tastes.
His Medallions are generally comprised of numerous pieces, individually applied to the ceiling, not as just one piece. He uses a pastry bag to apply ribbons, leaves and vines. Full-scale ceiling and room designs can be created from any design style in history.
His designs are sketched at his shop and submitted to his clients for approval. In Ken words "If the math works, the design will be beautiful". Ken consults with his clients, delivering custom work to meet each individual need, and which ultimately exceeds every expectation. The design possibilities are endless.
Historical plaster restoration

Flat plaster renovation, according to historical period

Recreating lost plaster work

Period-style plaster wall and ceiling designs

Venetian plaster  projects
This site is devoted to Ken's own decorative ornamental plaster ceiling design and wall treatment work, which he designed, created and installed in concert with architects, interior designers and other artists.  Soon, a new section will be added showing Ken's work in historic restoration and renovation, covering all aspects of the ornamental plaster trade by showing him restoring plaster walls  and detailing ceiling restoration.  Here will also be described the various buildings, including estate museums, historic homes, colleges, theaters, art museums, churches, opera houses and hotels around the country where Ken has performed the magic of his plaster restoration work.
Here is a brief sampling:
Rosecliff Mansion (for the Newport Preservation Society);

The Edith Wharton Estate;

Torrington House Museum;

Von Bulow Mansion;

The Strand Theater;

Providence Performing Art Center;

Belcourt Castle;
Waldorf Astoria;

Harvard University;

Providence College;

Rhode Island School of Design (RISD);

Brown University;

Johnson and Wales University, and many others.